Looking for an hour's gentle exercise next to the Ōpāwaho Heathcote River, flavoured by a little history, a little mindfulness and a little learning? You need look no further than the recently established Woolston Walk – a 2km loop walk of twelve marked stations.
At each station of the walk, information from a QR code scanned on your phone takes you on a journey back to the bustling times of Woolston when it was the centre of Canterbury transport and industry, or opens your eyes to the natural treasures that currently are found in the life of the river.
Although you can commence anywhere on the loop, the initial station is at the site of Christchurch Quay on the corner of Ferry Road and Richardson Terrace where scanning the QR code with your phone allows you to read about the first of the wharves that used to be the heart Woolston, and central to the growth of early Christchurch.
Following the markers and their QR codes in either direction around the loop, takes you through Connal Reserve, over the Barrage gates, through Radley Park and Laura Kent Reserve to complete a circuit that will teach you about the flora and fauna, the original Māori inhabitants of the area, the history of the river and results of human intrusion into the environment.
As you go, seats offer opportunities for rest and reflection in the peacefulness of the river's continuous gentle motion, with the call of birds and the rustle of leaves. You may even witness a shag catching a meal, see a family of pāpango (scaup) diving for food, or catch a glimpse of a tuna (eel).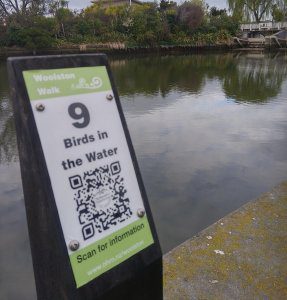 If you wish, extend the route down to The Tannery for a coffee or shopping, or stroll into Woolston itself for the same.
The walk has been created by the Laura Kent Workgroup, a collection of local residents under the umbrella of the Ōpāwaho Heathcote River Network. The workgroup gathers monthly on the first Saturday to act as kaitiaki of Laura Kent Reserve and Connal Reserve. You can appreciate the outcomes of their labours as you walk.