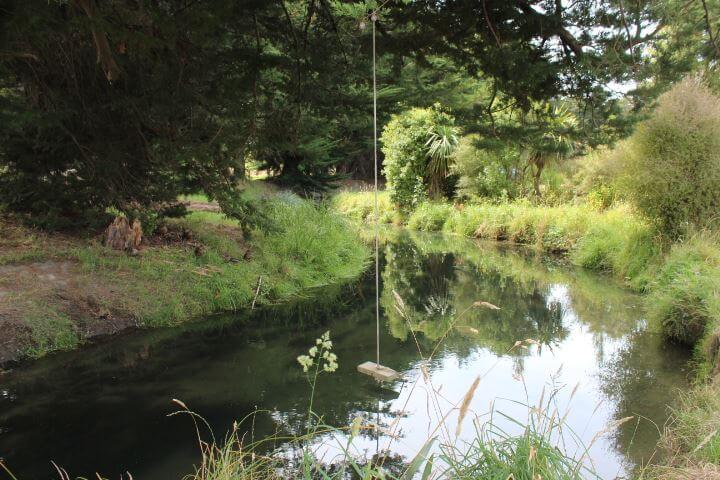 Our Goals
Goal 1: Protect and enhance Cashmere Stream and its catchment
Goal 2: Maintain a credible, representative, and active community group that results in improved management of Cashmere Stream and its catchment
Goal 3: The natural and cultural values of Cashmere Stream are recognised and embraced by the community.
About the Cashmere Stream
Cashmere Stream arises as a series of springs in the Henderson basin. These springs generate crystal clear water for the first half of its approximately 4.5km course. However, in the lower half of Cashmere Stream four ephemeral hill tributaries have a disproportionate effect on water quality. During rain events these four hill tributaries contribute significant water volume to Cashmere Stream and mobilize the fine loess soils that are prevalent in the hill catchments. The loess sediment is difficult to remove and presents as a dirty brown collaboration.
This small stream on the Southwestern outskirts of Christchurch is the centre of rapid change of land use. This is being driven by new greenfield residential development, questionable forest harvest practices and an adventure park under-resourced to meet the challenges of a fire-damaged site. Each presents their own challenges but without exception, that challenge is one of sediment control or the lack of it in rain events.
Key Documents
Who are we?
CSCG carries out a regular and comprehensive water clarity monitoring programme that has been running since 2010. They also conduct restoration work in the upper reaches and carry out advocacy work on behalf of the stream.
Cashmere Stream Care Group has an 8 year record of 4000 clarity measurements for the stream and its tributaries under the full range of rainfall events. Analysis of the data is helping the Cashmere Stream Care Group, Ecan, CCC and landowners to improve management of the catchment. This fits well with our mission statement TO PROTECT AND ENHANCE THE HEALTH OF THE CASHMERE STREAM AND ITS CATCHMENT.
Committee Members
Our Committee has a broad range of experience, knowledge and expertise ranging from aquatic ecology to historical knowledge of the stream and its catchment. We meet regularly, and anyone is welcome to attend our meetings.
Chair: Ken Rouse
Karen Whitla
Gordon Rudd
Robin Smith
Lesley Woudberg
Julia Fettes
Ed Challies
Lauri Dann
Dennis Preston
History
The Cashmere Stream Care Group (CSCG) was initiated in 2006 as part of Environment Canterbury's Living Streams Programme.
Location
Cashmere Stream is a spring-fed headwater tributary of the Ōpāwaho Heathcote River arising in Hendersons Basin and Hoon Hay Valley. It is approximately 4.5km in length and joins the main waterway at Worsleys Reserve beside Worsleys Rd and Cashmere Rd, Cracroft.