Radley Park and Roimata Food Commons – an inspiring story to tell
The lower Opāwāho/Heathcote River and estuary was part of the food gathering resource for local Māori.
Originally the land surrounding the river was swampy and covered in scrub, grasses, flax, sedge, raupō, and trees. For Māori the river provided a food source and was an important path though the swamp. Many travelers crossed these waterways in simple hollowed out canoes or in mokiki, reed canoes. They practiced Mahinga Kai, looking after the natural resources that you live alongside guided by values of Kaitiakitanga (stewardship) and Manaakitanga (respect) for the whenua (land), awa (river), rākau (trees), ika (fish), manu (birds) and all other living beings.
Sadly as we have seen, the industrial focus of the early European settlers saw the river and its environs treated as a resource to be used, and as a sewer to dump waste. With a significant increase in human population, these issues magnified and impacted the river and its environs.
The park in which you now stand was not used for industrial purposes. In the late 1840's, during the early European settlement of Ōtautahi/Christchurch, rural section 64 (comprising of 130 acres of land) was purchased by Edward Kent and Issac Luck. They set up a farm named originally Isis Farm, after the river flowing through their hometown of Oxford England, and grew crops of wheat, oats and turnips. The farm was later renamed Radley Farm.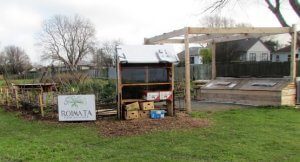 The land was passed onto the Christchurch City Council in the mid-1950's by the then owners Alfred & Hannah Gates as part of their estate settlement. A large portion of the farm was used for housing, but the Gates had stipulated that a portion of the land was to be kept for the wellbeing of the community…hence the creation of Radley Park.
In 2017 a trust was formed to establish the Roimata Food Commons and Community Garden. Over 100 heritage fruit and nut trees, 1000+ native plants, herbs, berries, vegetables, flowers and perennial plants have been planted. Two Food Forest areas, a mixed fruit garden, four native plant clusters, and more recently a community gardening/gathering space has been created. This initiative also seeks to restore the practices of Mahinga Kai.
Head back 400m past the dog exercise area and swing upriver (left) past the second Roimata Food Commons orchard of heritage fruit trees to find the Laura Kent Reserve.